Use a paper clip or pencil to hold down the programming button on the VI. While holding down the programming button, connect a micro-USB cable to the VI and to the computer you will use to do the programming - an LED on the VI will flash green, and then you can let go of the button.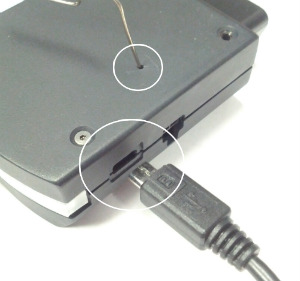 If your VI has the v1.1 bootloader, i.e. it does have an OpenXC sticker on the housing, you can copy the new firmware over in any file manager. Browse to the LPC1759 drive that appears when you run it in bootloader mode, delete the firmware.bin file and copy your new firmware file .bin over (the new filename doesn't matter). Eject the LPC1759 drive and unplug the VI. It's flashed!
---
If your VI has the v1.0 bootloader, i.e. it does not have OpenXC sticker, you must flash new firmware from the command line with mdel and mcopy from the mtools package. Once you have mtools, clone the vi-firmware repository and run the bootloader-flash.sh script to program the VI:
$ git clone https://github.com/openxc/vi-firmware
$ cd vi-firmware
vi-firmware/ $ script/bootloader-flash.sh /dev/sdc new-vi-firmware.bin
where
/dev/sdc
is the device name of the LPC17xx (run
dmesg
to see what device it appears as when you plug it in with the bootloader button pressed down) and
new-vi-firmware.bin
is the binary firmware you want to flash, and it's located in the current directory. When the script exists, the VI is flashed - just unplug it.