Use a paper clip or pencil to hold down the programming button on the VI. While holding down the programming button, connect a micro-USB cable to the VI and to the computer you will use to do the programming - an LED on the VI will flash green, and then you can let go of the button.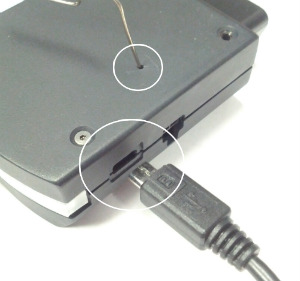 The VI will appear as a typical USB drive named LPC1759 - open it.

The drive will have a firmware.bin file - delete it.

Drag and drop the new firmware .bin file onto the drive.

Eject or unmount the drive. When the drive is safe to remove, unplug the USB cable.

The next time you power up the VI (without pressing the programming button) it will be running the new firmware.
Note: The LPC1759/firmware.bin file you see in Windows Explorer is just a placeholder. To check if your firmware is properly flashed, plug in the VI via USB and try running openxc-control version from the command line to get the firmware version.